My passion for creating and designing led me to the housebuilding industry…
James Hammond is currently part of Crest Nicholson's Graduate Development Programme. Here he tells us more about how following his passion in life led him to starting a career in house building.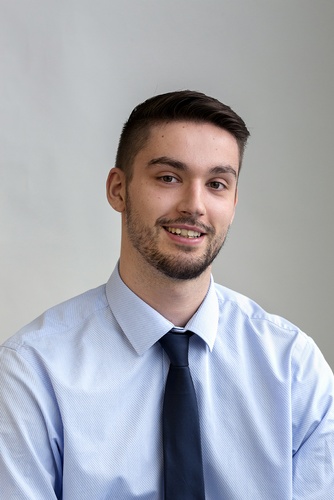 Creating and designing has always been a big passion of mine, once graduating from my degree in Construction Management I started searching for the opportunity to enter the housebuilding industry so I could pursue my passion as a career. However it became clear that there weren't too many prospects near home so I headed towards London in search of something more.
Fast forward a few years and I'm on the Graduate Development Programme at Crest Nicholson, I work in the London office and have spent just shy of two years working within each department in our region. During my first year I primarily worked with the Technical department, but in my second year I spent time within Customer Services, Sales and Marketing, Land and Planning, Finance, Commercial and on Site.
Throughout the programme no two days have been the same. I have been placed in different roles and in a variety of different scenarios ranging from; finding solutions to design challenges, procuring materials for site, working on site, assisting the Project Manager and building relationships with new customers. The knowledge and understanding of how each role fits in with everyone else has been invaluable and has also helped progress my own development.
One of the great things about working in London is that each building differs from the last. Each site has different restrictions and more often than not the construction is complex and unusual in its design. I enjoy the new challenges and opportunities that come with creating new homes – every day is different and there is always something new to think about. Working in the Technical department gives me the best of both worlds as I get to spend my time both in the office and out on site, seeing works progress in the flesh from start to finish. I also get to work with every other department in the business and have the chance to meet all different types of people.
The graduate scheme has given me a great opportunity to progress in more than one area of the business. Working in new roles and meeting everyone within the region has not only meant that I've been able to get a brilliant understanding of the company as a whole, but I have also been fortunate enough to create some strong friendships too. Working at Crest Nicholson has given me a great platform on to build on.
--
As one of Britain's top house builders Crest Nicholson prides itself in offering a highly competitive Graduate Programme. Taking on 10 university graduates every year they aim to provide a comprehensive understanding of the industry by offering a two year learning and development programme where the individual experiences every discipline within the business, including; Land Acquisition, Planning, Design and Development through to Production and Sales & Marketing. To find out more, please go to: https://www.crestnicholson.com/about-us/careers/graduate-programme