A 'rising star' in the construction industry
Luton based Andrew McCready has been awarded a prestigious endowment by the Barry and Peggy High Scholarship Foundation.  The Construction Industry Training Board (CITB) offers these scholarships to selected apprentices on behalf of a benefactor who worked in the industry for many years as a reward for the best talent.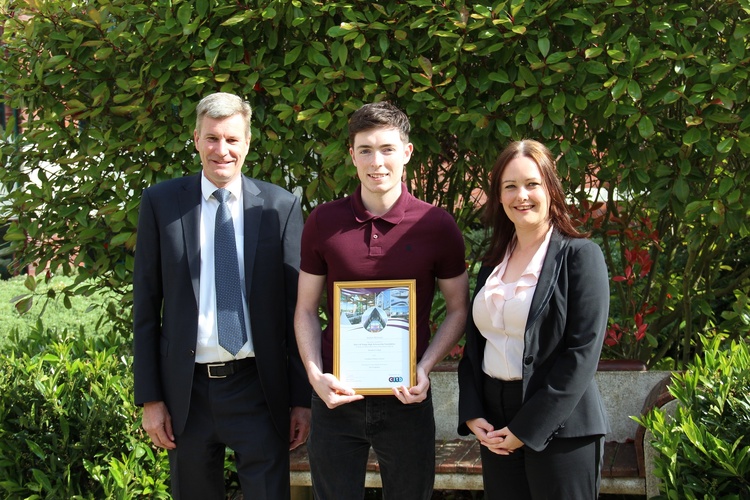 Having completed his education at Ashcroft High School, Andrew commenced his CITB led Carpentry Apprenticeship attending Barnfield College one day a week whilst working for Croudace Homes at its site in Ware, before moving to his current development in Great Offley.
The financial scholarship comprises £500 for tools; £500 for IT equipment; and £500 on achievement of the apprenticeship - which Andrew completed in June this year (NVQ Level 2, Construction Diploma).  He will receive a further £500 when he gains his Level 3 Advanced Apprenticeship. 
Nathalie Collins, CITB Apprentice Officer, made the formal presentation to Andrew at the offices of his employer, Croudace Homes, in Letchworth on Wednesday 6th July.  She said "Andrew was singled out for his maturity, professionalism and attention to detail.  From the start of his apprenticeship he stood out from his peers as a rising star".
Commenting on it, Andrew said: "I was honoured to receive the scholarship as the money will help me purchase more equipment that will benefit me in my carpentry apprenticeship. I am very happy working for Croudace Homes as everyone is supportive, they have helped me excel in the trade I am passionate about and I hope to continue working with them as I progress in my career."
Richard Holmans, Managing Director of Croudace Homes (North Thames), said "I am delighted that Andrew has been recognised and rewarded for his exceptional skill and dedication.  Croudace is committed to providing opportunities and training for new entrants into the industry, and the company will continue to support Andrew and nurture his obvious talent as he continues with his apprenticeship."