New book teaches children about the homes they live in
Children are learning about the processes, materials and different job roles in homebuilding through an engaging book penned by a Redrow sales director.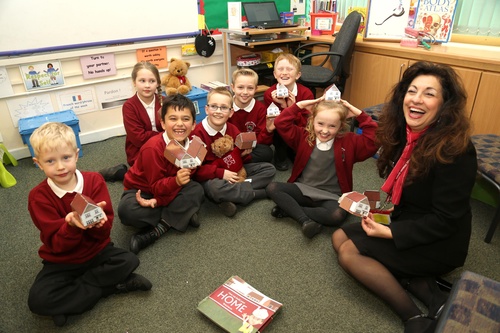 How We Build Your Home is the second book from Pauline Turnbull, sales director for Tamworth-based Redrow Homes (Midlands). Thousands of copies have already been sent to schools across the West Midlands, with further copies issued to coincide with National Storytelling Week (January 31 – February 7).
In the book, site manager Jim and his team of construction workers guide readers through the building process, explaining about methods they use, some of the potential dangers and how all the different roles contribute to the finished product.
One of the first schools to receive copies of How We Build Your Home was Shifnal Primary School, in Shifnal, near Telford, close to Redrow's Aston Fields venture.
Head teacher Adam Farrington said: "Staff and children enjoy reading How We Build Your Home as it's both fun and educational. It links in with several areas of the curriculum including literacy, geography and science as it encourages children to think about different types of homes, where they live, the area around them and the materials and processes involved in housebuilding.  We're grateful to Redrow for sharing such a useful resource with us."
Copies of the book have also been given to schools close to The Willows in East Leake, The Coppice in Telford, Abbey Meadows in Pershore and Tudor Gardens in Atherstone.
Pauline Turnbull, sales director for Redrow Homes (Midlands), says: "Children living  on or near to our developments are often curious about how we transform a parcel of land into new homes, creating a new neighbourhood along the way, and this book is a great way of explaining that to them, particularly during National Storytelling Week.
"We'll be giving out more copies to customers' children and to schools across the region to help youngsters understand how we build their homes."
Pauline's first book, What Happens in Redrow Green, was launched during last year's National Storytelling Week. Inspired by the stories she told her own grandchildren it teaches readers about natural habitats and the things different creatures want and need for a home.
Pauline's family also provided inspiration for her latest book; the characters Ellie the electrician and George the ground worker are named after her grandchildren.
"There are lots of different roles involved in building a home and I've tried to include as many of them as possible to help get children thinking of potential career paths," Pauline adds.
For details of where Redrow is building see www.redrow.co.uk or for details of career and training opportunities see www.redrowcareers.co.uk.