Meet the women in hard hats working hard for house building
In celebration of International Women's Day on 8th March, and the fact that more women than ever are carving out successful careers across the house building sector, Countryside is paying special recognition to its female employees. Although the construction and house building sector as a whole has a predominantly male workforce, the Countryside team is anything but, with women making up nearly a quarter of staff. Indeed a third of Countryside's Board Directors are female, including Chief Financial Officer, Wendy Colgrave.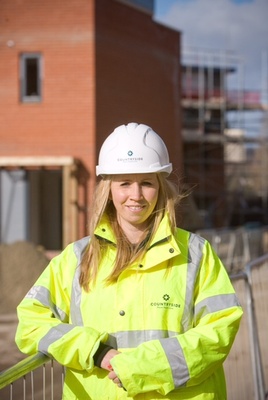 House building has dominated Rhiannon Ricketts career since she left school in 2002. With her father working as a chartered surveyor, she has had some great inspiration, and has never looked back since she started talking to Countryside at a Reading University Open Day. Now an Associate Director of Development, working on Countryside's pioneering Great Kneighton development in Cambridge, she has no regrets about her career choice. She comments: "This is a great career, with plenty of opportunities and variety, and I have never had any problems in respect of my gender. In fact, with Countryside, I am encouraged to progress and grow and my role continues to evolve and develop. It's actually quite disappointing that house building careers are not promoted or encouraged more to younger girls at school and university, as I think this could really help to boost the overall reputation of the industry."
Recently promoted Development Director, Catherine Brooking, also working at the Great Kneighton development, has been with Countryside for nine years, although her professional career spans 30 years. She is pleased to have seen the industry change, especially over the last decade, to welcome more women. She says: "There are more women than ever before working in house building, at all levels, which is great to see. For me, I like the fact that I am not stuck indoors all day and there is always plenty of variety and scope for progression. As with many jobs, you do have to have a thick skin, but being a woman is not an issue. Progress at Countryside is encouraged, on merit, and there are plenty of opportunities."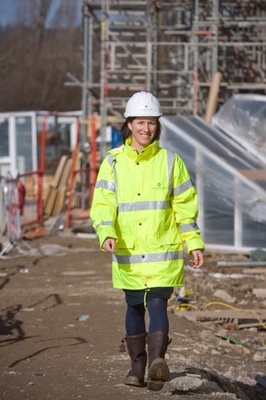 One of the more recent members of the team is Quantity Surveyor Sarah Sainty, who joined Countryside a year ago, with 15 years' industry experience. Her first job as a contractor was more by default than design, but she went on to get her qualifications and has never looked back. Sarah recalls: "I have started at the bottom and worked my way up – it's not been easy, but what professional careers are these days? I have worked hard and tried various development and client-side roles, and I find that this industry just suits my personality. I would definitely recommend it to other women who are looking for a more hands-on career. There's plenty of scope to grow, and always new challenges, so you are never bored!"
Jackie Brown, an assistant site manager based in Crawley has been with Countryside for 16 years, after starting her career as a carpenter 25 years ago. Jackie has also held other site and managerial roles, but prefers her current role. She always knew she was more suited to a varied career: "I did work in retail but it just wasn't something I enjoyed. By contrast, my role allows me to be on site and meet with various people each and every day. There is a huge amount of variety, which always keep things interesting. As a woman, dealing mostly with men every day, I have no issues. In this job, it's about capability and competency and being with Countryside this long is testament to that. I am lucky to have a great team around me, and encouraged by the fact that I always have the support of our MD."
Graham Cherry, Chief Executive of New Homes and Communities at Countryside, comments: "At Countryside, we are as passionate about our people as we are about our properties and places. We are proud, and lucky, to have an incredibly talented and diverse team that are committed to creating the very best places to live.
"International Women's Day is the perfect opportunity for us to celebrate the significant contribution our female employees make to our business. We are of course very aware of the stigma that exists for women working 'in a man's world', but at Countryside, as you have heard from some of our staff, our attitude is very different.
"We will continue to encourage, motivate and support all our staff, to ensure that they enjoy a rewarding career in the house building industry."