Bid to bring Wales' women on-site for construction careers
A new drive has begun to persuade more women to join Wales' construction workforce; forging careers as engineering professionals or skilled on-site workers such as bricklayers, carpenters, plumbers or electricians.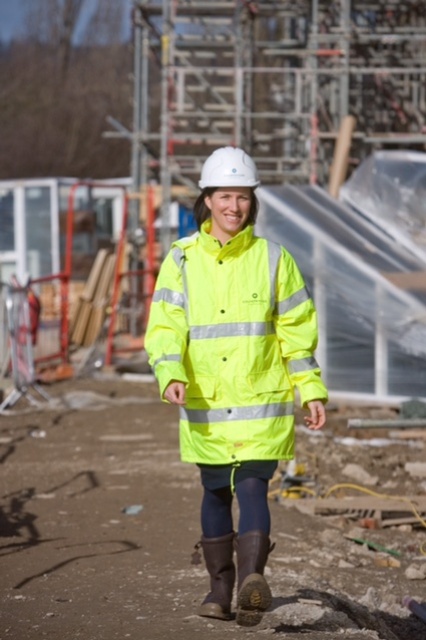 Women currently only account for 11 per cent of the construction industry's workforce, but only one per cent of these work on site. Furthermore, while the number of women pursuing apprenticeships has increased over the past ten years, only two percent of construction apprenticeships are filled by women. 
Figures show that Wales will need thousands of newly-trained engineers and construction- related professionals and skilled trades-people over the next decade in order to fill the huge number of vacancies arising through sector growth and replacement of those who leave or retire.
Three organisations have joined forces to launch a fully funded training programme designed to encourage more women to explore careers in construction and create a sustainably diverse workforce - and it's now open to women across Wales.
The new Women Building Wales programme – comprising women's charity Chwarae Teg,  NPTC Group of Colleges and Women into Construction, offer women interested in construction careers a place on a fully funded, 12 week 'Introduction to Construction' course. Participants will learn the basic elements of carpentry, brickwork, plumbing and painting and decorating, securing a level 1 qualification upon completion.
For women looking to further their learning after the course, a series of apprenticeships, work placements and additional training will be on offer with the ultimate aim being employment in the industry.
Julie James AM, Deputy Minister for Skills and Technology, will be launching the 'Women Building Wales' scheme at an information event being held on 22nd February at the NPTC Group of Colleges, Neath Campus from 12:30pm. Anyone interested in finding out more about the initiative is invited to attend.
Speaking ahead of the programme launch, Joy Kent, Chief Executive at Chwarae Teg, commented: "While there have been one-off projects and courses previously offered for women to encourage them to explore careers within the construction sector, there hasn't been a programme created that has had the potential to establish sustainable diversity within the sector. The Women Building Wales scheme has huge potential to help women forge careers within a traditional male dominated industry through great training and further development through apprenticeships and work placements.
"Like many sectors, the construction industry is set to experience a severe shortfall of skilled workers over the next few years and by encouraging more women to pursue careers within the industry, we will ensure we have a pool of workers available to fill a number of roles. To do this, it is essential that we break-down any barriers potentially deterring women from entering non-traditional careers and highlight the many benefits of working within the construction industry."
Mark Dacey, CEO of NPTC Group of Colleges said "NPTC Group of Colleges has always looked to provide quality training and innovative solutions for the construction sector. We are proud to deliver, with key strategic partners, Wales' inaugural Women in Construction Programme, to provide real opportunities for women to enter and have successful careers in the sector. The joint approach will provide a breadth of expertise, enabling a sustainable diversity approach and skills progression, which will create the momentum to deliver a more inclusive workforce for the industry."
To find out more about the training programme, email kath@womenintoconstruction.org or call 07981 740 888 / contact Annie Gregory via e-mail: annie.gregory@nptcgroup.ac.uk