Young Redrow apprentice job swaps with regional director, Lee Hawker
A bricklaying apprentice from Redrow South West is taking on the challenge to help the community and raise the profile of apprenticeships.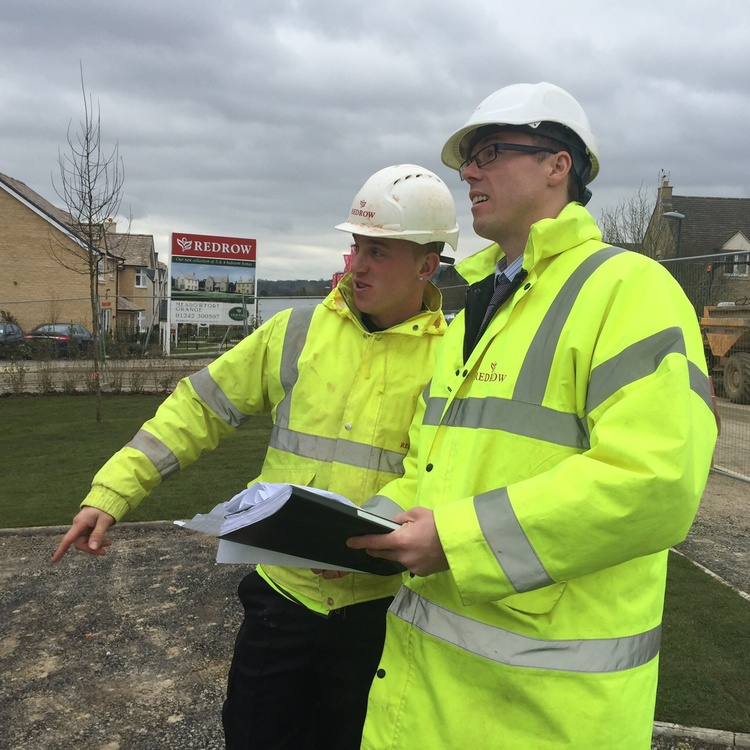 Sam Mead from Thornbury, South Gloucestershire, is competing in the Brathay Challenge 2015 along with eight fellow trainees as part of the Redrow South West team. The event is the official search for 'apprentice team of the year' and is organised by the Brathay Trust and supported by the National Apprenticeship Service.
The team will need to prove they have the best team building, logistical, leadership and community skills needed to claim the title.
Sam, 24, is based at Redrow's site at Sellars Bridge, Hardwicke and is a bricklayer apprentice while also studying for an NVQ level two in bricklaying at City of Bristol College.
Sam said: "I have been working for Redrow for seven months and am really enjoying it. One day a week I attend college and the other four days are spent on site, its hands-on learning, which is great! I think apprenticeships are a fantastic way to gain experience while gaining a qualification at the same time. I am very lucky to have secured this apprenticeship and can see myself working for Redrow in the future."
For part one of the challenge, centred around National Apprenticeship Week (which ran from March 9-13), Sam did a job swap with Regional Director, Lee Hawker.
During the job swap Sam was tasked with running the weekly site inspection, giving Lee and the site managers a full tour of the development to check everything is running smoothly. Sam also sat in on a board room meeting with Lee. Next it will be Lee's turn to see what it is like to be an apprentice on site and Sam plans to give him a varied day, with lots of hands-on bricklaying experience.
For part two of the challenge the Redrow South West team will be taking on a project to help Ann Edwards C of E Primary School in South Cerney. The team plan to build an outdoor classroom from scratch in just seven days, which the school will open in September to celebrate its 25th anniversary.
Throughout the regional heats, Sam and his team will be spreading the word about apprenticeships through school visits, media interviews and social media activity.
Karen Jones, HR director at Redrow South West, said: "This challenge is a wonderful opportunity for our young trainees to build on their skills. It's a fantastic showcase for the individuals involved and also serves to shine a national spotlight on apprenticeships as an alternative to university.
"At Redrow we are huge advocates of apprenticeships and believe that they are one of the best ways to future-proof our business and ensure our employees have the skillset to succeed."
The two tasks in the challenge's regional heats will each account for up to 50 per cent of the team's final score, which will be assessed by a portfolio submitted to the judges. The top two teams from each region (North, Central, London and South East, South West) will then battle it out to be crowned the apprentice team of the year.
The finalists will be announced at an event in London in May. The competition culminates in a logistical and teambuilding finale at the Brathay Trust's Windermere headquarters from 6th-8th July.