National apprenticeship week sees two Bellway apprentices making the grade
In a week when apprenticeships are being celebrated around the country, two Bellway apprentices are marking their second year with one of the country's largest house builders. Josh Tait (18) from Killingworth and James Vasey (17) from Monkseaton both work at Bellway's Earsdon View devel-opment in North Tyneside.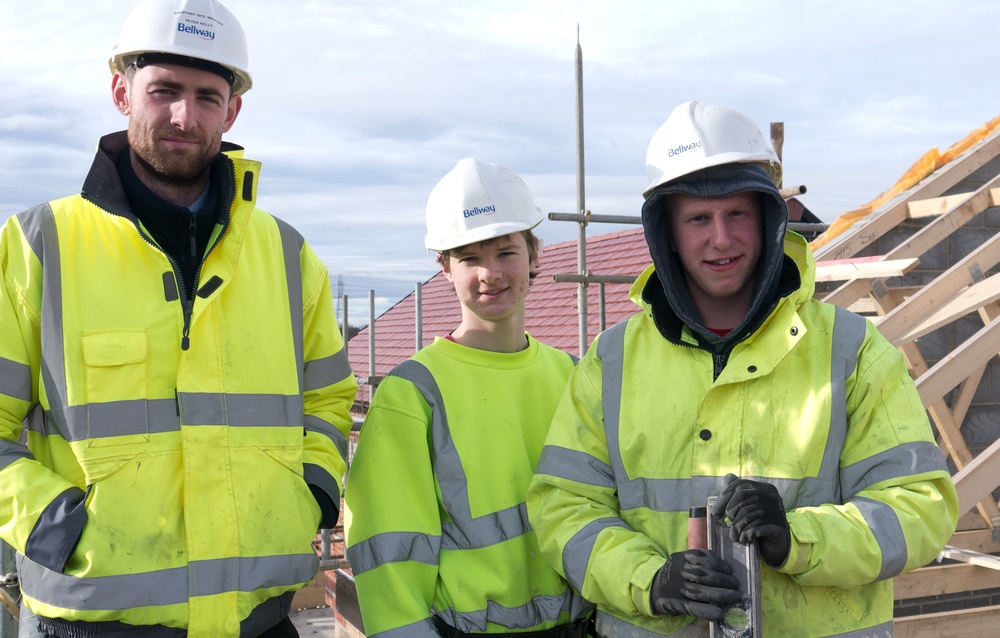 Josh and James joined Bellway in 2013 and started in the company's three-year apprenticeship scheme and are now about to start their third and final year.
"We both feel really lucky to be working for Bellway and working in jobs that we both enjoy as well as receiving professional training at the same time," said Josh.
Josh who is an apprentice bricklayer attends Newcastle College on a rota basis which sees him at college for two weeks followed by a six week site placement. Whereas his colleague, James at-tends Newcastle College on a day release basis while he learns the craft of joinery.
Peter Kelly, assistant site manager who was also an apprentice at Bellway, said: "Both Josh and James are doing very well. They are about to start their third and final year of training on site which will give them their NVQ Level 3. This next year is an important year for both of them as they will get the opportunity to show off their skills by entering the Regional and National Construction Skills Awards. If they are successful this could lead to more opportunities in the business. Looking further ahead, they both have the chance to extend their qualifications and achieve NVQ Level 6 with fur-ther on-site assessment."
James whose grandfather also worked as an apprentice for Bellway, said: "I have always enjoyed joinery since I was at school. The training that Bellway and the college has provided has really im-proved my skills and I feel far more confident and have learned so much about house building in the first two years of my apprenticeship."
Josh who is an apprentice brick layer and also a football coach in his spare time said: "I always wanted to be involved with the building trade, I much prefer to be out doors and learning a skill, who knows one day I may even build my own house."