Countryside blog: Apprentices build on experience for new careers in construction
This year, as part of National Apprenticeship Week (14 – 18 March) the Government is advocating that employers "pass the torch" of knowledge from one generation onto the next. Countryside remains an enthusiastic supporter of apprenticeships, boosting much-needed skills and leading people on to successful careers in the construction sector.
Countryside has long been an investor in young talent in the house building industry. In the last 25 years, we have championed apprenticeships as part of the company's workforce development, supporting over 300 apprentices across the company. Working with training provider Denbre, our current programme has supported 37 apprentices since January 2014 across several regeneration sites in London, including St Paul's Square in Bow. So far, following their apprenticeship, 24 have gone straight into jobs, which is a fantastic achievement.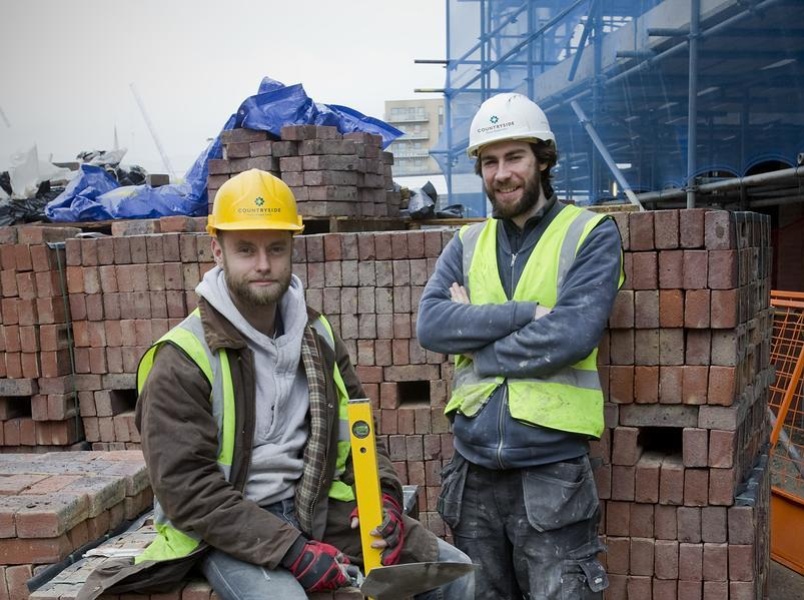 This year, a significant number of Countryside's apprentices are from an older age bracket – new to the industry, but not new to the world of work. Earning a wage as they learn a new trade is just as important for our older apprentices, who are used to a regular salary and supporting themselves.
Bricklayer Lucien Smith and plumber Roberto de Spirito, both aged 30, are working at Countryside's St Paul's Square development in Bow. Both of them have worked in other roles before coming to the construction industry.
Roberto (pictured above right) didn't consider a career house building when he was younger. He explains: "I started plumbing by doing an evening course at Tower Hamlets College as a useful skill to have, rather than an informed career move. It was while at college that I was offered some on-site work experience, which turned into a full-time apprenticeship.
"I am learning so much here - it is interesting to work with different plumbers and learn new things from them. I like having a physical skill, being able to fix and make things. The environment on site is completely different to previous jobs I've had, so I am hoping to continue working here after my course is finished in a few months and I am fully qualified!"
Prior to his apprenticeship, Lucien (pictured above left) was a carpet fitter and studied at University. He comments: "I had a couple of jobs after university, but realised I'd really be fulfilling my true potential and playing to my strengths by learning a trade. I went back to college to study Level 2 Bricklaying and heard about the apprenticeship scheme through a talk at the college.
"I've only been with Countryside since the start of the year, but with the support of my supervisor and the site team, I'm enjoying it. By learning a valuable trade, I avoid being stuck in a 'dead-end job' that I don't enjoy, and I am able to continue my career and potentially increase my earnings, whilst learning new skills. I'm keen to stay in the construction industry and would like to progress to site management in the future."
Countryside actively promotes and provides opportunities for people of all ages and backgrounds to work in the housebuilding sector. We cannot hide from the construction skills shortage in the UK, so we must do what we can to bring people into the industry, providing them with the training and support they need to progress their careers ensure the highest standards of housebuilding.
We value the experience all our apprentices bring to the company and their vocational calling demonstrates that it is never too late to find a career in construction.
--
Paul Sweeney
Director, Community and Customer Services - Countryside Properties