OLD -- NOT Active Getting into house building
House building really is a unique industry to work in, one in which you'll be given the chance to really achieve something.
It's the sort of achievement that you can look at and touch. It's something we see through from start to finish, from a piece of land with nothing on it to a thriving community where families grow, and people live – and you can play your part.
But it's more than just about providing homes for a nation that desperately needs them. It's also very rewarding for you.
At current industry rates, apprentices earn on average between £9.5k and £18k per year; and graduate trainees can earn between £20k and £28k per year. And if you're really successful and make it to the top of the tree, as a director in a house building company you could earn between £90k and £120k per year.
The rewards are also far greater than just financial. You will receive first class training and be given the opportunity to gain industry leading qualifications – that will set you up for life.
Choosing a career in house building is choosing to work in an industry where you can really achieve something tangible. And as a result, you'll also get to see the changes in yourself and the world around you.
Starting a career in house building means you have the best of both worlds. We'll put the time in to help train you and allow you to develop your potential.
As an apprentice or graduate, you'll be given the chance to learn your craft while you work, whether that's land buying or joinery. Together, we'll put the time in to get you to where you want to be.
Higher apprenticeships & graduate schemes
The majority of house builders run specific schemes aimed at helping you get into the industry at the right level and in the area you're interested in. The schemes are often tailored around you, depending on where you live, what sites are near you and what the role is you're doing. All the while adapting to how you progress to make sure your job is challenging, interesting and of benefit to your overall career progression.
What is an apprenticeship?
An apprenticeship gives you the opportunity to gain an industry-relevant qualification while working for or with a house builder, earning a salary whilst also gaining valuable workplace skills and experience.
The key benefits are:
Earning a salary;
Training in the skills that house builders want;
Excellent progression opportunities;
Increased future earning potential - apprentices enjoy marked salary increases when they complete their training;
Better long term salary prospects - according to official statistics, those with an Advanced Apprenticeship earn around £117,000 more than those without, over the course of their career;
Learning at a pace suited to the individual with the support of a mentor;
Paid holiday.
Apprenticeships are open to anyone living in England, over 16 years old and not in full-time education.
Apprenticeships take between one and four years to complete and cover a wide variety of job roles right across house building. From things like bricklaying, joinery and surveying to accountancy, sustainability and planning.
What is a graduate training scheme?
Graduate training schemes can take different formats depending on which house builder you choose to apply to. Usually though, they allow university graduates to experience aspects of both the specific role that interests them and the business as a whole. The schemes vary in length depending on the specific employer programme. Like apprenticeships, graduate training schemes offer you the opportunity to earn while you learn, all the while gaining vital workplace skills and experience.
There are limited number of spaces available on any graduate training scheme, so employers set minimum requirements to qualify for entry. Usually these will be a set criteria such as a certain number of UCAS points, a specific minimum degree grading, and sometimes relevant industry experience through voluntary work placements.
Find out more
There are a huge variety of apprenticeships and graduate schemes to choose from, and the best way to find out more is through our House Builder Directory. There, you can search for and find the house builders that interest you – whether that's because they're local or they've stood out to you in another way. Whatever the reason, you can find the best ways to contact them and find out more.
University Technical Colleges
University technical colleges (UTCs) are government-funded schools that offer 14–18 year olds a different learning approach compared to traditional schools. They are also usually smaller than traditional secondary schools, they're not academically selective and they don't charge students fees.

Their aim is to teach students technical and scientific subjects in a completely new way in order to educate and mould the house builders of the future!
UTCs do this by integrating technical, practical and academic learning and creating an environment where students can thrive and develop the abilities that the industry needs.
By working with a university and local employers, UTC students benefit from access to:
The latest research, industry experts and specialist facilities

Real-life employer projects that stretch their technical skills and creative thinking

Teaching and mentoring from specialists who currently work in industry
The number of UTCs is growing rapidly, but there are already many right across the country.
If you're interested in a career in house building though, both Buckinghamshire University Technical College and West Midlands Construction UTC are perfectly suited.
Other relevant UTCs are:
The Sir Simon Milton UTC

Royal Greenwich UTC

Medway University Technical College

Greater Peterborough UTC

Daventry UTC
To view the whole list of UTCs, visit: http://www.utcolleges.org/utcs/
A job in house building is unique
As an industry, we're always changing and adapting to new technologies, regulations and customer demands. And that means you'll have to as well. We're looking for the ambitious young people who want to challenge themselves to achieve great things. If you think that sounds like you, then let us give you the tools you'll need to make it happen.
Working for a house builder will put you at the heart of an industry that is vital to the nation's economy, and more importantly to the quality of people's lives. You'll be helping to build more than just homes. You'll be creating communities for families up and down the country.
But choosing a career in house building will give you more than just the chance to build something. You'll be working as part of a team with like-minded people who are committed, ambitious and prepared to push themselves at every opportunity.
You'll be in an environment that encourages you to think, to challenge yourself and others, and to ultimately work together to help drive the industry forward.
Ultimately, building a home means building something for life. Choosing a career in house building is no different.
Routes into the industry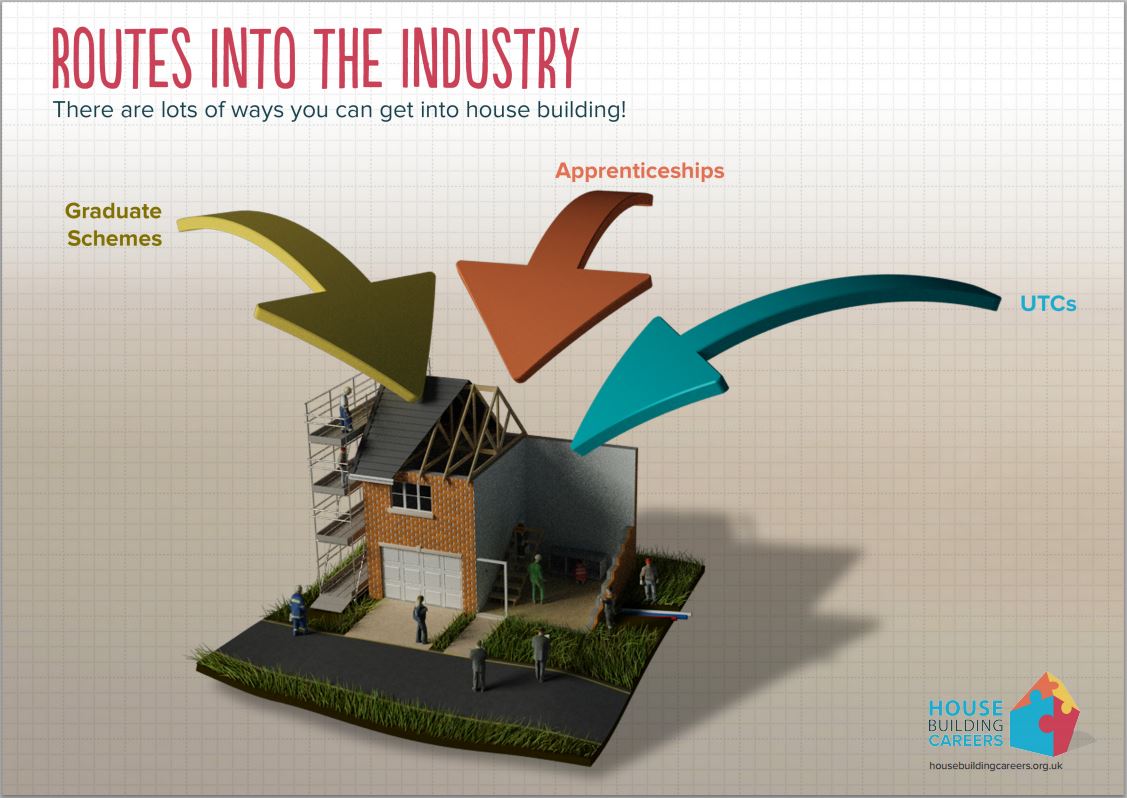 Career progression chart